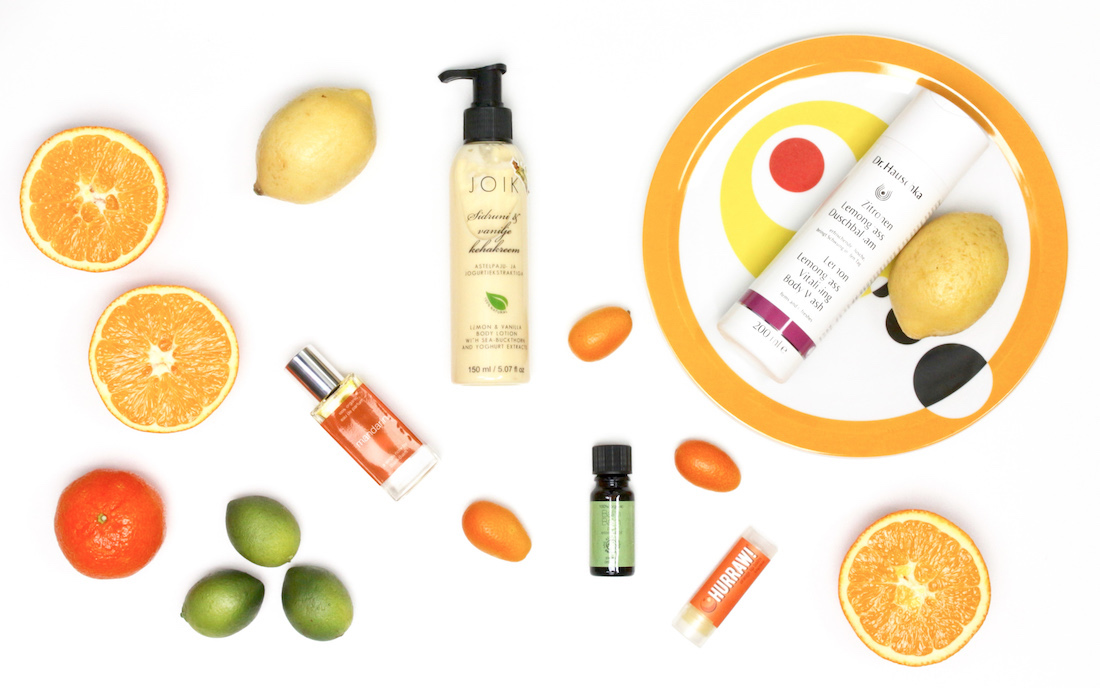 Which ones they are? Well, citrus scents. I find them refreshing and invigorating. Maybe that's why I like them especially now, in winter, because they offer a contrast to gingerbread, pine cones and mulled wine? Today, I'll show you some of my favourite products with citrus scents that I currently use.
Balm Balm Single Note Mandarin (22 GBP) + Sweet Orange Essential Oil (6 GBP)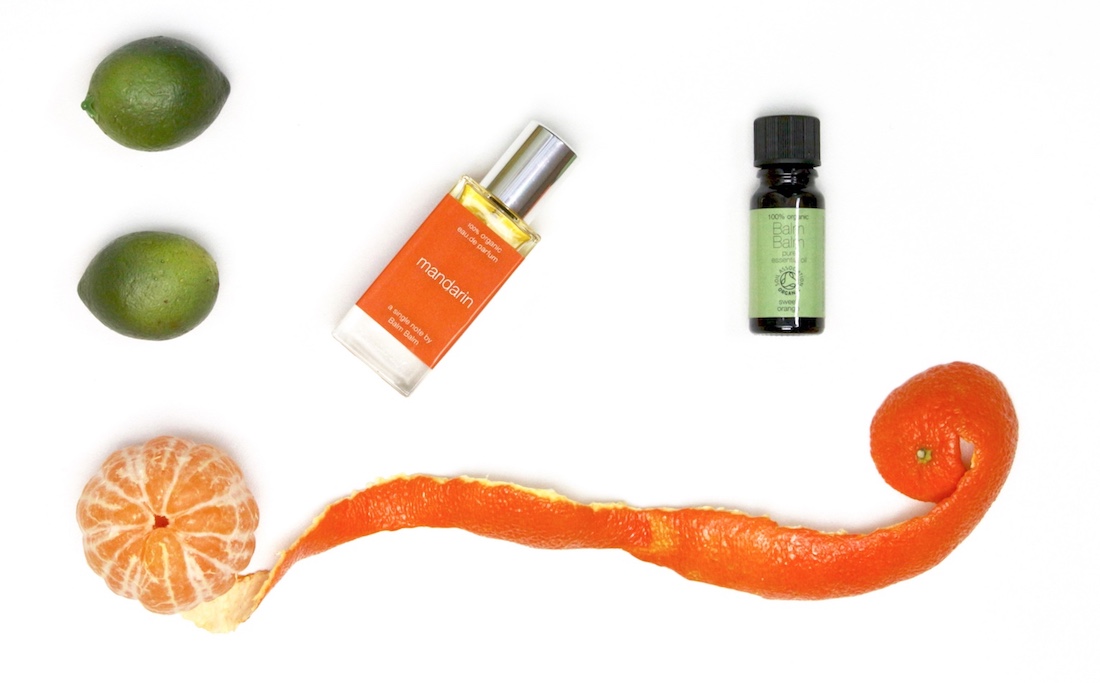 Balm Balm brought out a range of organic perfumes with just a single note. You can wear them alone or combined, which I find interesting. This way, you can create your very own perfume. I especially like their mandarine scent, which basically only has a top note. It's very refreshing. I apply the perfume in the morning before my first coffee for a little "perk-me-up".
The scent is fresh, zesty and is a mood-booster. It smells fruity of mandarin and is also aromatic like mandarine peel. It is not sweet and at the same time not bitter, it's just right. Since it is a pure top note, the scent does not last all day, though.
I like to use the more intense sweet orange oil by Balm Balm for my fragrance lamp or my aroma stone. The essential oil emits a very lovely aroma, like when you are making fresh orange juice – very delicious! Both products are certified organic by the Soil Association and are also vegan.
JOIK Lemon & Vanilla Body Lotion (150ml, 10.50 GBP)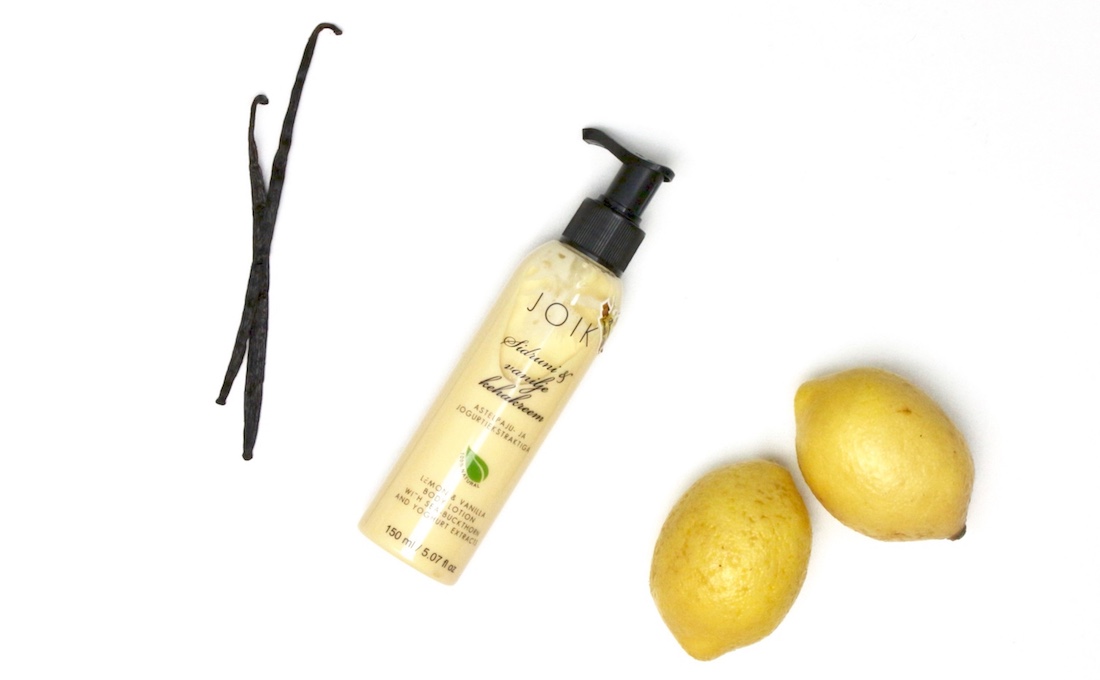 The body lotion from JOIK is a dream It is not only pleasantly light and at the same time very moisturizing. It also smells amazing. Lemon tart meets vanilla custard. It's simply gorgeous. My skin feels nourished and also smells delicious.
You don't need much, a little of the lotion goes a long way. It makes my skin feel moisturized the whole day. Moreover, the lotion is easy to squeeze out with the dispenser. A short twist closes it so that nothing can clogg. I like that a lot.
I also like the ingredients. JOIK used different kinds of oils. Some absorb into the lower layers of the skin, some stay on top as a protective coat. Antioxidant extract also give a protective effect. I do want to mention that the lotion contains some alcohol. It is no. 9 on the list, so I don't mind.
Aqua→ water, Helianthus Annuus Seed Oil→ sunflower oil, skin conditioning, Glycerin→ humectant, Hippophae Rhamnoides Extract→ sea buckthorn extract, soothing, Orbignya Oleifera Seed Oil→ babassu oil, skin conditioning, Passiflora Incarnata Seed Oil→ passion flower oil, antioxidant, Prunus Armeniaca Kernel Oil→ apricot kernel oil, skin conditioning, Arctium Lappa Root Extract→ burduck root extrakt, soothing, antioxidant,  Alcohol→ solvent, disinfectant, Cocos Nucifera Oil→ skin conditioning, Stearic Acid→ emulsifies, Cetearyl Glucoside→ emulsifies, Gardenia Tahitensis→ Tiare, scent, Hippophae Rhamnoides Oil→ sea buckthorn oil, skin conditioning, antioxidant,  Sodium Benzoate→ preservative, Tocopherol→ vitamin E, antioxidant, Lavandula Angustifolia Oil→ scent, Potassium Sorbate→ preservative, Arctium Majus Root Extract→ burduck root extract, soothing, Serica Powder→ silk powder, gives consistency, Litsea Cubeba Fruit Oil→  scent, Propylene Glycol→ solvent, humectant, mild preservative,  Limonene→ fragrance component, Xanthan Gum→ thickener, Citral→ fragrance component, Yogurt Extract→ protective, Avena Sativa Kernel Extract→ oat extract, skin conditioning, Styrax Benzoin Gum→ film forming, Gluconolactone→ chelating agent, Rosmarinus Officinalis Leaf Extract→ tonic, slightly antimicrobial, Phenethyl Alcohol→ scent, preservative, Caprylyl Glycol→ emollient,  humectant, Linalool, Geraniol, Citronellol→ fragrance component, Calcium Gluconate→ skin conditioning
Hurraw Orange Lip Balm (4.3 g, 4.49 GBP)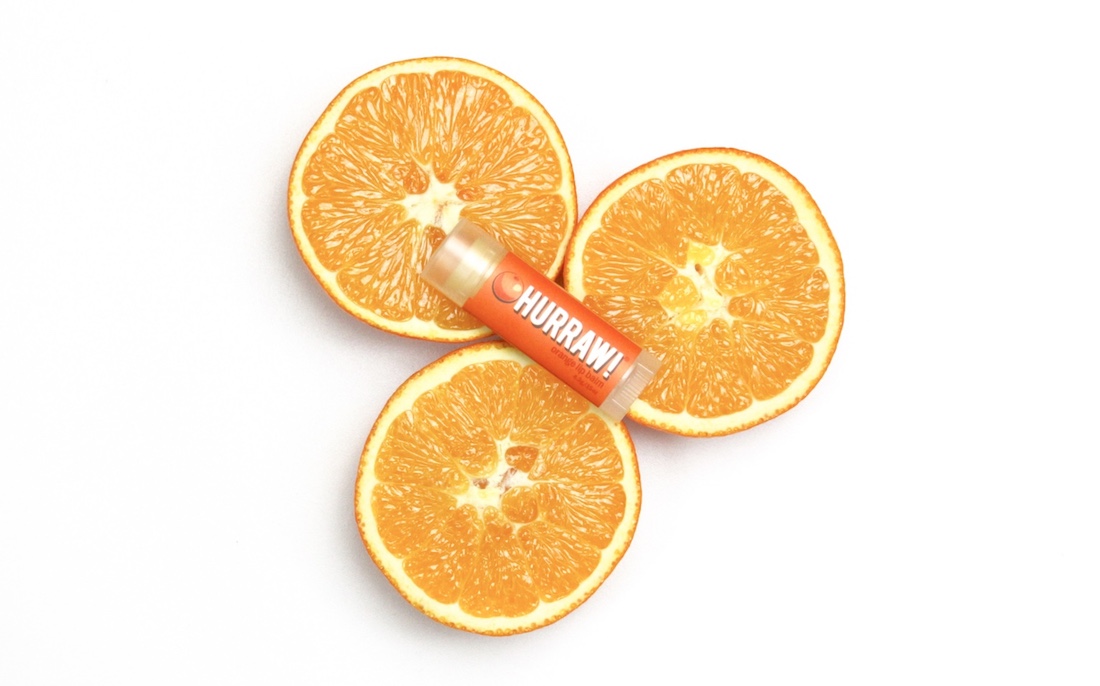 When I first unpacked the Hurraw lip balm, I thought that someone had sat on it, because the tube isn't round. It is supposed to look like that, though. The oval shape is actually quite practical, because you can apply the lip balm very well this way.
It melts nicely upon contact with the lips and feels light. It does not leave a greasy film or a wax-like feeling. I also cannot notice anything sticky or tacky.
I like to use the Hurraw lip balm with its lovely orange scent when I am at a place where it does not smell so good. So, basically, when I would very much like to douse everything in Balm Balm Mandarin, but can't, because I am in a waiting room, for example. Then, I'll just use the lip balm and enjoy the pleasant smell for a moment.
Prunus amygdalus dulcis (sweet almond) oil*→ skin conditioning, well tolerated, Euphorbia cerifera (candelilla) wax***→ film forming, emollient,  Cocos nucifera (coconut) oil**→ skin conditioning, melts on contact with the skin, Simmondsia chinensis (jojoba) seed oil*→ skin conditioning, binds moisture, Theobroma cacao (cocoa) seed butter**→ forms film, replenishes lipids, Ricinus communis (castor) seed oil*→ emollient, smoothes, Olea europaea (olive) fruit oil*→ protects, Citrus sinensis (orange) peel oil→ scent, Tocopherols (sunflower)→ antioxidant
*cold pressed/ organic **raw &  organic ***wildcrafted
Dr. Hauschka Lemon Lemongrass Body Wash (200ml, 13.50 GBP)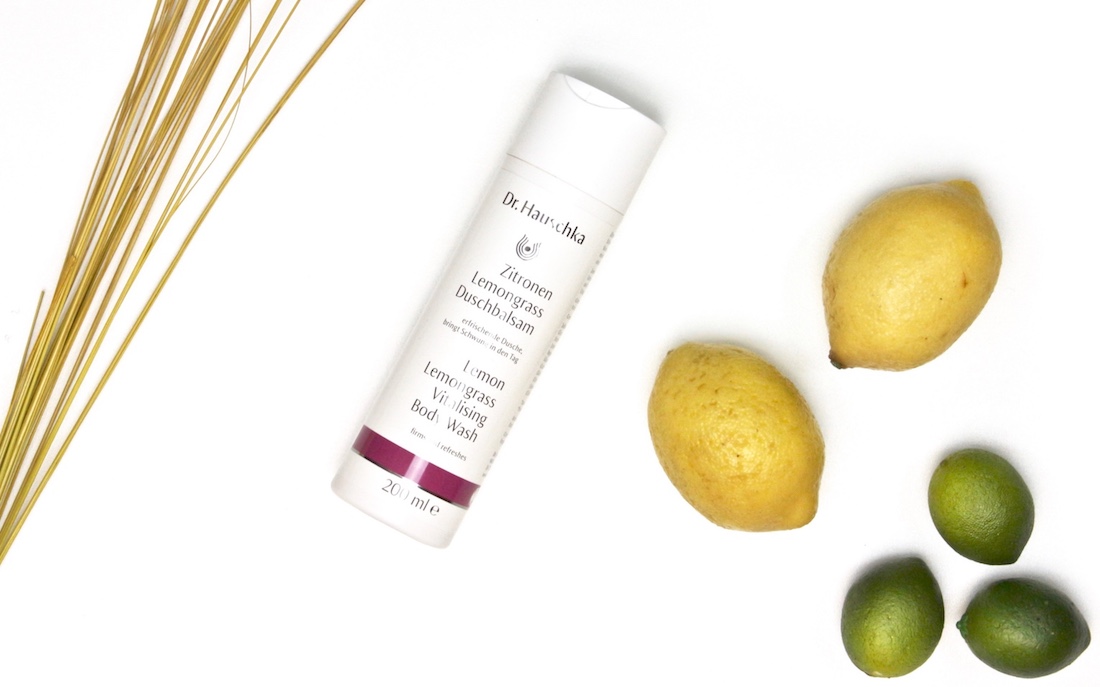 I've praised the Dr. Hauschka Vitalising Body Wash in a blogpost before and haven't changed my mind since. I still find the shower cream very mild, refreshing and aromatic.
The body wash is creamy, so that it does not slide from your skin, but stays on top and turns into a light lather. After I dry my skin, it feels soft and smooth. That's because the body wash does not only contain mild surfactants, but also skin conditioning oils.
Essential oils give it that heavenly smell. The shower cream smell fruity of lemons, but also aromatic of herbal lemongras. I find it very well-balanced and refrehsing. If you do not like citrus scents that much (which I can't understand), you can also get this shower cream with notes of rose, lavender+sandalwook and almond.
Aqua→ water, Helianthus Annuus Seed Oil→ sunflower oil, skin conditioning, Coco-Glucoside→ surfactant, mild, Glycerin→ humectant, Decyl Glucoside→ surfactant, mild, Alcohol→ lsolvent, disinfectant, Persea Gratissima Oil→ avicado oil, skin conditioning, Pyrus Cydonia Seed Extract→ quince seed extract, soothing, Sodium Cocoyl Glutamate, Disodium Cocoyl Glutamate→ surfactants, mild, Xanthan Gum→ thickener, Citrus Limon Peel Oil→ scent, Cymbopogon Flexuosus Oil→ lemongrass oil, Parfum→ essential oils, secent, Limonene, Citral, Geraniol, Linalool, Citronellol, Farnesol→ fragrance components, Citric Acid→ buffering, Hectorite→ viscosity controlling
Do you have any tips for more products that smell of citrus? As you can see, I have a certain liking for them.
I was allowed to choose some of the products at Lovelula.