Der BASF sunscreen simulator ist ein praktische Möglichkeit, den SPF der Sonnencreme zu checken. Man gibt die Prozentzahl der enthaltenen UV Filter in ein online Formular ein und bekommt die Höhe des SPF und zusätzlich auch, ob genug UVA und UVB Schutz vorhanden ist. Aber es gibt auch Probleme.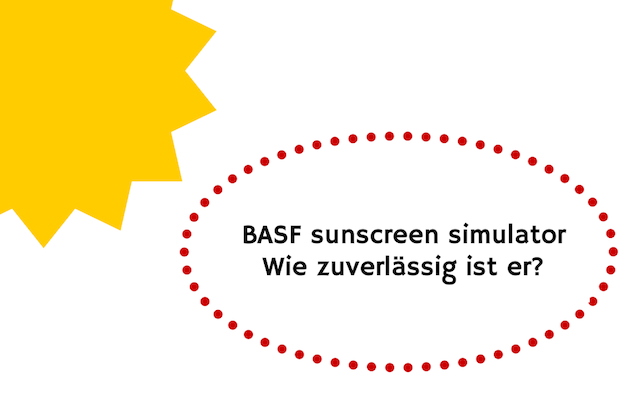 Ich bin drauf gestoßen, als ich die Paula's Choice RESIST Sonnencreme überprüfen wollte. Sie enthält 13% Zinkoxid und hat einen SPF von 30. Nun habe ich die 13% in den BASF sunscreen simulator eingegeben. Die Überraschung war, dass man nur auf einen SPF von um die 6 kommt.
BASF sunscreen simulator – 13% Zinkoxid, oil phase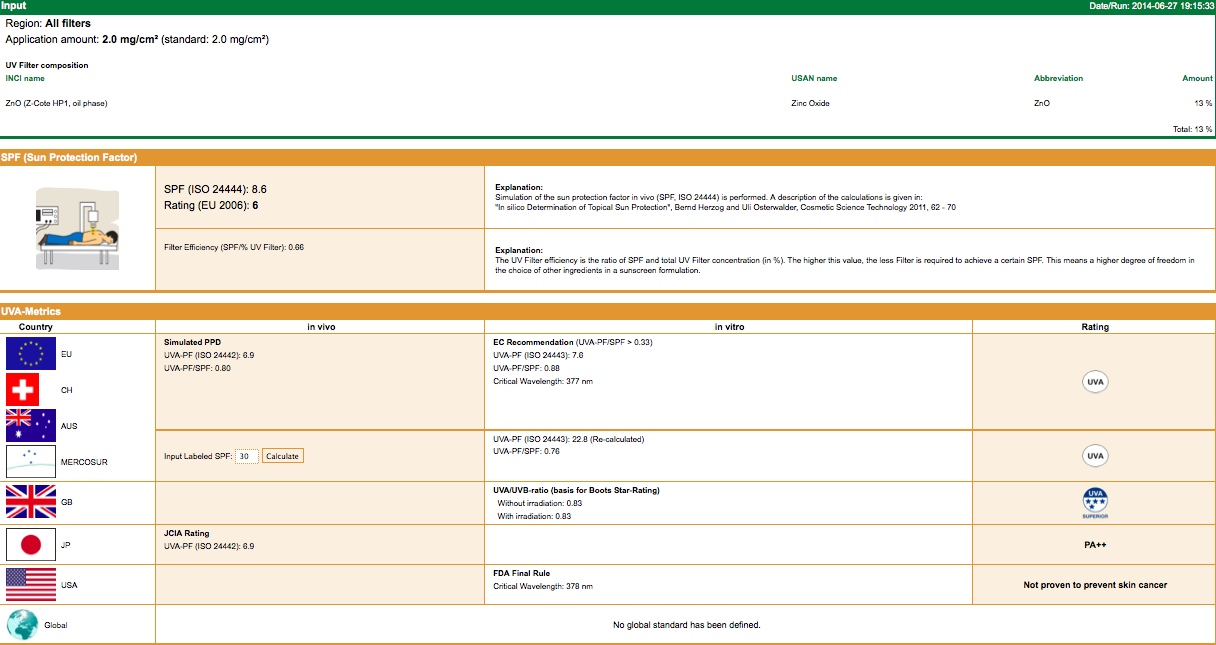 Bild lässt sich durch Klick vergrößern
Das Resultat fand ich merkwürdig, also habe ich weiter geforscht. Der Paula's Choice Kundendienst hat mir dabei geholfen. Es gibt zwei Gründe, warum der BASF sunscreen simulator so eine niedrige Zahl ausspuckt. Zum einen ist es so, dass Antioxidantien helfen können, den SPF einer Sonnencreme zu erhöhen. Sehr gut ist dieser Effekt (und warum das gar nicht so gut sein kann) hier erklärt.
Im Paula's Choice Produkt sind viele Antioxidantien drin, die bei der Suchmaske des sunscreen simulators unberücksichtigt bleiben. Das wäre also ein Grund für den Unterschied. Das ist aber nicht alles. Vielmehr kommt außerdem zum Tragen, dass der BASF sunscreen simulator nur z-cote Zinoxid berücksichtigt, also nur das eigene Produkt von BASF. Es gibt Zinkoxid aber in verschiedenen Partikelstärken und mit verschiedenen Ummantelungen (coating). Die ganzen anderen Sorten fallen beim BASF sunscreen simulator also durch das Raster.
Nun ist es schwierig, zu wissen, welches Zinkoxid genau in der verwendeten Sonnencreme drin ist. Es ist ja schon schwer, in Europa überhaupt die Prozentzahlen an verwendeten UV Filtern zu wissen, weil sie nicht angegeben werden müssen. Wir sind also in einer verzwickten Lage. Wir wissen meist nicht, um welche Partikelgröße und Ummantelung es sich handelt, geschweige denn, wie hoch der Anteil am Zinkoxid oder überhaupt an Filtern in der Sonnencreme ist.
Einige Firmen sind da vorbildlich und sagen genau, was in ihren Produkten drin ist. Ich habe mich auch mit Sue Ingram von sunumbra ausgetauscht, weil das eine solch vorbildliche Firma ist. Sunumbra verwenden in ihren Sonnencremes im Moment mit Dimethicone ummanteltes Zinkoxid. Auch ihre Cremes würden beim BASF sunscreen simulator SPF-Test schlecht abschneiden, wenn man rein die Prozentzahl vom Zinkoxid eingeben würde. So hat die sunumbra SPF 30 Sonnencreme mit 16% Zinkoxid nur einen SPF von 10 bei BASF.
Aber: Man darf nicht außer acht lassen, dass sunumbra eben kein z-cote Zinkoxid verwendet und dass sie auch eine sehr große Menge an Antioxidantien in den Cremes einsetzen. Sue Ingram sagte mir per Mail dazu: "So our zinc oxide sunscreen ingredient must be superior as our clinical test results differ! " Und damit spricht sie etwas Wichtiges an.
Alle Kosmetikfirmen, die ihre Sonnenschutzprodukte in den USA verkaufen, müssen FDA Testvorhaben erfüllen, die die SPF Bemessung nachprüfen. FDA ist die US-amerikanische Behörde, die sich um Nahrung und Arzneimittel kümmert. Natürlich gibt es solche Vorgaben auch in anderen Ländern, und auch der Paula's Choice Kundenservice schreibt:
Needless to say, any Paula's Choice Sunscreen is measured not only by the new FDA broad-spectrum testing standards (which are rigorous), but they are also measured by the rigorous standards of the EU, Japan and Australia! We cannot sell our formulas there without having passed their UVA/UVB testing requirements!
Der Kundendienst hat auch etwas angesprochen, das nicht nur für Sonnencreme gilt, sondern für alle Hautpflegemittel. Es gibt immer ein Zusammenspiel von verschiedenen Zutaten. Selbst ein Pflanzenöl enthält diverse Stoffe (Linolsäure, Palmitinsäure, Squalan…). Der Focus sollte also immer auf der Wechselbeziehung der Inhaltsstoffe liegen. Der BASF sunscreen simulator lässt alles schablonenhaft erscheinen.
Ich möchte gern die Antwort vom Paula's Choice Kundendienst voll zitieren (ich hab nachgefragt, ob das ok ist).
The BASF Simulator is fundamentally just an online calculator that looks at the percentage of sunscreen actives in a formula and then makes a determination based upon its own formula. It does not take into account how the ingredients are used in a sunscreen formula, nor does it take into account the stability and SPF boosting effects of how sunscreen actives work in a finished product.
This is not an accurate way to measure the performance of any sunscreen, or any sort of chemical formula. It is impossible to determine how a chemical formula will behave based purely on the ingredients—and it isn't a sophisticated approach nor does it meet the rigorous testing standards of the global community (EU and the US, for example, both of whom now use a multiple-stage broad-spectrum testing process). The simple fact is that you cannot look at the ingredients and know the level of UV protection you are getting—this is determined by a variety of factors which is why no cosmetic chemist anywhere would rely on such a measurement.
Das zeigt sich auch an folgendem Fall: Vor Kurzem habe ich in dem Clinique Even Better SPF 45 einen Inhaltsstoff gefunden (Ethylhexyl Methoxycrylene), der UV-Filter stabilisiert. Den kann man in die Maske beim BASF sunscreen simulator z.B. gar nicht eingeben, weil kein Feld dafür da ist. Der würde also unter den Tisch fallen.
Was für Zinkoxid gilt, gilt auf ähnliche Weise übrigens auch für Titandioxid. Der BASF sunscreen simulator berücksichtigt im Moment nur nano-Titandioxid. Es gibt aber natürlich noch andere Arten von Titandioxid, auch die werden also nicht berücksichtigt.
Fazit
Man kann also zusammenfassend sagen, dass der BASF sunscreen simulator einige blinde Flecken aufweist. Im Bereich der mineralischen UV Filter, insbesondere beim Zinkoxid, werden nicht alle Sorten von Filtern berücksichtigt. Außerdem ist der Focus des BASF sunscreen simulators nur auf einzelne Filter und nicht auf die Gesamtzusammensetzung des Sonnenschutzes. Antioxidantien fallen z.B. unter den Tisch. Der Blick auf die Sonnencremes wird beim BASF sunscreen simulator sehr schematisch und die Rezeptur einer Creme ist vielschichtig.